Cross Creek Clays is one of the nation's premier shotgun destinations, dedicated to making your experience, one to remember. Nestled in the rolling hills of Palmyra, TN, just 20 minutes from downtown Clarksville, TN. The brainchild avid sporting clays enthusiast and business entrepreneur, Joseph Calabrace. Cross Creeks Clays hosted the 2022 Southeast Regional with almost 700 shooters participating.
Cross Creek boasts:
7,000 square foot state-of-the-art clubhouse built with a rustic lodge flare.
5,000 square foot event center
3,000 square foot back patio with an outdoor kitchen and wood burning pizza oven.
Three 16-station sporting courses for shooters of abilities – Advanced, Intermediate and Novice.
Two 40' Towers with launching platforms at 20' and 40'.
Two covered 5-stands with Wobble traps.
Four FITASC Parcours practice fields.
Long Range wireless and voice activated controls.
MEC Traps.
We have five levels of memberships available, as well as being open to the public.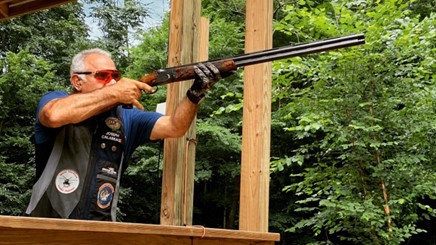 Joseph Calabrace, Owner and General Manager envisioned a state-of-the-art facility for shooters to hone their skills practicing or participating in NSCA registered events. Formerly from Latrobe, Pennsylvania he has been a resident of the Clarksville, TN area for nearly 40 years now. Joseph served as a "Little Bird" helicopter pilot in the 160th Special Operations Aviation Regiment (SOAR) at Ft. Campbell for over 12 years. His vision has led to one of the top sporting clay layouts in the world because of his military acquired attention to the smallest of details. From our reclaimed asphalt cart paths, covered stands, landscaped stations, towers, grouse buttes and more Cross Creek Clays has become a must see shooting complex.
We at Cross Creek Clays are dedicated to making your experience the best it can be during your visit with us.  Come on out and have a blast!!